1.Maximum Diameter of 40MM --- Kebtek KT-940 electric tree pruner max cutting diameter is 40MM which could meet your different needs for pruning different branches and trees in various occasions. Long press the trigger intercharge the cutting diameter from 40MM/1.57inch to 25MM/0.98inch.
2.Progressive Cutting Control --- The opening of the blade of electric pruner can be stopped at any angle, so it can be used for fine and careful pruning like hand pruner and which can achieve a safer and more detailed pruning operation.
3.Non-Stick Teflon Coating SK5 Blade --- The Kebtek 40MM electric pruning shears' blade is forged from teflon SK5 high carbon steel. The blade with high hardness and good rust resistance. Support over 100000 cuts.Cut branches without hurt. The cut surface of the branch is flat and non- stick which can keep the plant healthy.
4.Support 6-8 Working Hours --- Our electric tree trimmer come with two pack 2Ah Lithium batteries which support 6-8 working hours after 2 hours fast charging.
5.Efficient Brushless Motor --- Our Cordless electric pruner is equipped with a strong permanent magnet brushless motor. Compared with brush motor, brushless motor provides 300% more torque, more power, longer operation & extend motor life, also 50% lower energy consumption.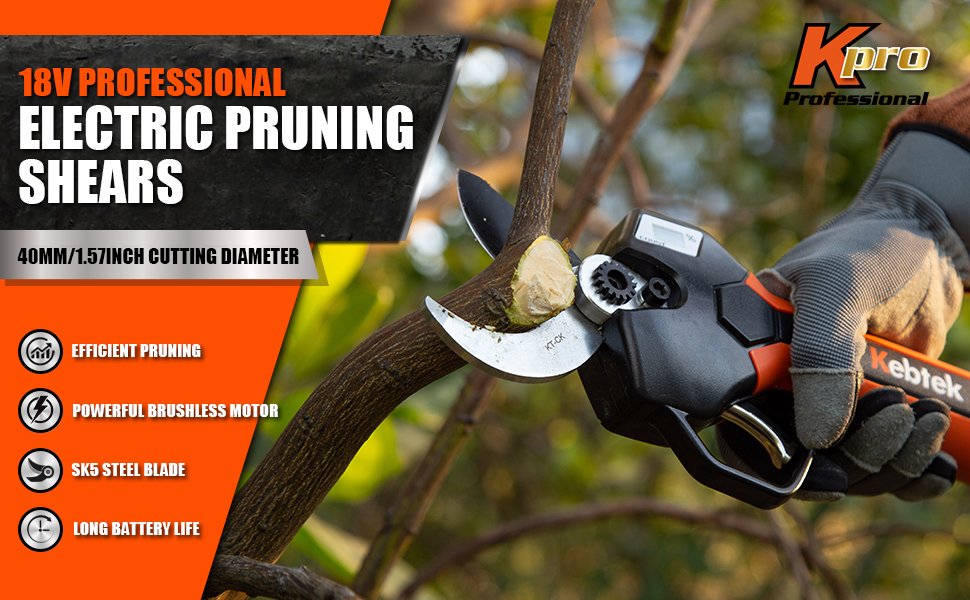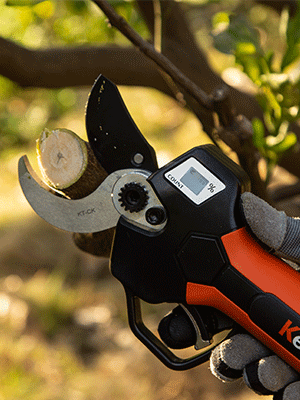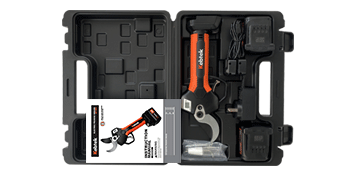 Package Included:
Electric Pruning Shears x 1
2000mAh Batteryx 2
Charger Adapter x 1
User's Manual x 1
Tool Set x 1
Empty Oil Bottle x 1
Please read the manual carefully before your firsrt use
Kebtek Professional Cordless 40mm Electric Pruning Shears KT-940
Specification:
Body material: ABS
Rated Voltage: 18V
Max Voltage:21V
Maximum power: 500W
Battery Capacity: 2000mAh rechargeable battery*2
Shear diameter: 1.57inch( 40mm )
Blade material: SK5 Teflon high carbon steel
High-speed Charging time: 1-1.5 hours
Working time: 3-4 hours for a single battery, 6-8 hours for double battery
Shear body +one battery weight: 2.63lbs (Only Shear body weight:2.1lbs )
Low-friction Teflon coating helps blades cut the branches smooth and sharp, prevents the blades from gumming up with sap and debris, and helps the blades resist rust.

An ergonomic handle provides a secure, comfortable grip, while the built-in safety switch prevents accidental cuts.
Progressive Cutting Control

The opening of the blade of electric scissors can be stopped at any angle, so it can be used for fine and careful pruning like hand pruner.

LCD Display Screen

The LCD display shows the number of cutting and the remaining power level. It's easy to handle.

Powerful Brushless Motor

The cordless electric pruning shears are equipped with a brushless motor, which saves a lot of energy and lasts a long time. Make your pruning easier.

Enough Power to Support a Whole Day Pruning

You can charge the two lithium batteries at the same time, saving your time. Two packs 2Ah batteries support 6-8 working hours.